Prices for the rides:
3 km 30* EUR per person (~1 hour long)
5 km 50* EUR per person (~1,5 hour long event)
(child till 12 years of age +20* EUR)
Mini circle for children till 12 years of age
1,5 km 20* EUR per child (lead by instuctor)
child and parent 40* EUR (lead by instuctor)

Photo session 1 hour 100* EUR
Visiting dogs (without going on ride) 3* EUR per person



Price includes:
Welcome and introduction to the team. Basic education in sledding and safety instructions. How to put the dog in harness and in sledge.
Ride in 4-6 dog sledge in authentic wooden sledge.
3 km track is on the field, 5 km track goes through a forest.
Starting speed is around 35 km/h, average 23 km/h
After the ride You will be able to enjoy a cup of hot tea (maybe something else), ask questions and share Your experience

Obligatory reservation!!! Phone number. +371-29181005 (registration) or husky.lv@gmail.com, +371-29249515 (instuctor)
We can host 12 person maximum per one event. There are 2 teams going on the track at the same time.

* prices are shown in cosideration and can change

Pieejamas arī dāvanu kartes.

Tel. 29181005 /29249515

e-pasts husky.lv@gmail.com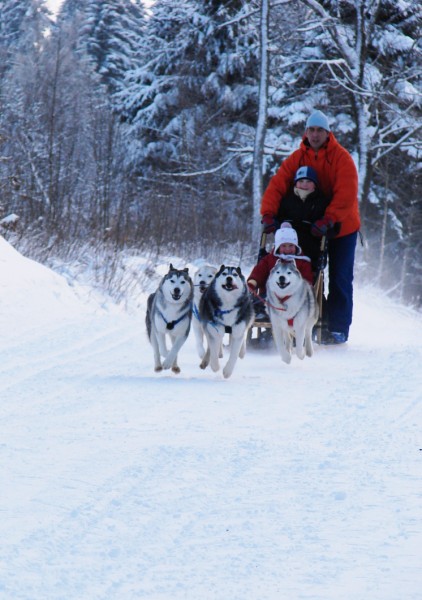 Winter season is open!!!
Prices for the rides:
3 km 30* EUR per person (~1 hour long)
5 km 50* EUR per person (~1,5 hour long event)
(child till 12 years of age +20* EUR)
Mini circle for children till 12 years of age
1,5 km 20* EUR per child (lead by instuctor)
child and parent 40* EUR (lead by instuctor)

Photo session 1 hour 100* EUR
Visiting dogs (without going on ride) 3* EUR per person



Price includes:
Welcome and introduction to the team. Basic education in sledding and safety instructions. How to put the dog in harness and in sledge.
Ride in 4-6 dog sledge in authentic wooden sledge.
3 km track is on the field, 5 km track goes through a forest.
Starting speed is around 35 km/h, average 23 km/h
After the ride You will be able to enjoy a cup of hot tea (maybe something else), ask questions and share Your experience

Obligatory reservation!!! Phone number. +371-29181005 (registration) or husky.lv@gmail.com, +371-29249515 (instuctor)
We can host 12 person maximum per one event. There are 2 teams going on the track at the same time.

* prices are shown in cosideration and can change

Pieejamas arī dāvanu kartes.

Tel. 29181005 /29249515

e-pasts husky.lv@gmail.com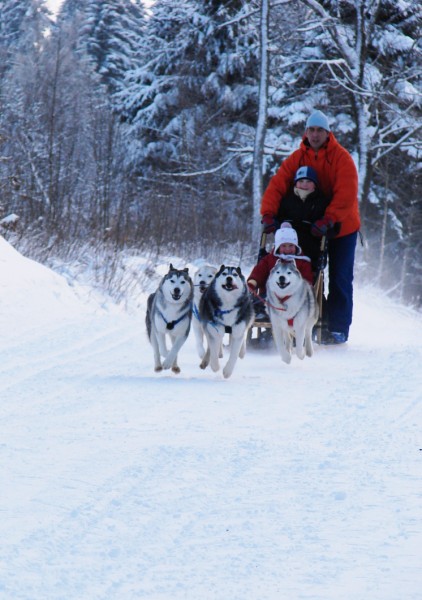 « Back